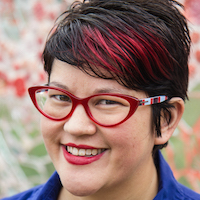 Emily Weerts
Director, Nucleus Learning Network
Talk to me about:

Informal STEAM Education

Diverse Community Partnerships

Teaching Programming to Elementary Students

Emily Weerts has over ten years experience as an educator and program manager for innovative learning projects in schools, museums, and outreach settings. She has developed and managed a diverse set of programs focused on STEM education, 21st Century Skills, and creative problem solving. An avid collaborator, Emily has a strong record of establishing and sustaining partnerships with educators, mentors, and learners. In 2014, she co-founded Nucleus Learning Network, a nonprofit focused on connecting stakeholders interested in enhancing Austin's innovative learning community. Emily's personal heroes include Jim Henson, Ada Lovelace, and Luke Skywalker.
Back