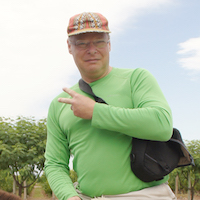 Mitch Weisburg
Founding Partner, Academic Business Advisors
Talk to me about:

What are the pain points your product or service addresses, and how do they affect the way you need to communicate your value proposition?

Who makes the decision to use your product or service in schools and how to reach them?

What is it going to take to reach the next two levels for your product or service?

Mitch Weisburgh is a partner at Academic Business Advisors and has overseen development and marketing of systems, content, curriculum, and courses across the spectrum of K-12, Postsecondary, corporate training, and job readiness.

Mitch co-authored the SIIA guide to the Postsecondary Market and is a national speaker at conferences on education technology in both K12 and higher education. He writes the PilotED blog and is on the Boards of the Software and Information Industry Association (SIIA) Education Division and Youth Rights Media. In 2014 he co-founded Edchat Interactive, which provides live interactive online PD to share best practices among educators. In 2015 he organized the first Games for Schools Summit, which brought together individuals from different sectors of education to discuss and start planning ways to increase the use of games in schools.
Back