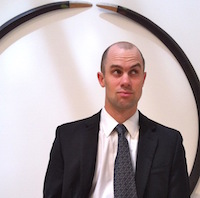 Peter Nilsson
English Teacher & Assistant Dean of Faculty, Deerfield Academy
Talk to me about:

Applying cognitive science to lesson planning

First years of teaching - training and practice

Teaching students to write in meter

Peter has taught English at Deerfield since 2000, excepting a four year hiatus as a musician in New York City. He has taught courses on Paradise Lost, intersections of literature and science, the evolution of literary form, New England Poetry, British literature, and American literature. A fan of Anglo-Saxon and Renaissance poetry, Peter often uses verse as a tool for teaching writing skills.

As Assistant Dean of Faculty, Peter directs the Teaching Fellow Program and New Faculty Orientation, and he assists the Dean of Faculty in various projects.

Peter maintains The Educator's Notebook, a newsletter that promotes innovation in education by collecting education-related news from around the web. He writes occasionally at Sense and Sensation, a blog about intersections between creativity, cognitive science, and education. He is a member of the Advisory Board for SXSWedu and the Center for Curriculum Redesign.
Back