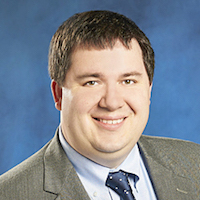 Scott McQuiggan
Director, SAS Curriculum Pathways, SAS Institute
Talk to me about:

Mobile Learning. Including app development, developers working with educators, app smashing, etc.

iBeacons & indoor positioning for informal learning venues and mobile apps.

Research, data, and analytics with online, blended, and mobile learning.

Scott McQuiggan leads SAS Curriculum Pathways, an interdisciplinary team focused on the development of no-cost educational software in the core disciplines at SAS Institute Inc. Curriculum Pathways includes more than 1,250 resources, tools, and apps for K-12 education used in all 50 states and 90 countries around the world. Scott received his PhD in computer science from North Carolina State University, where his research focused on affective reasoning in intelligent game-based learning environments. He also holds an MS in computer science from North Carolina State University and a Bachelor of Science in computer science from Susquehanna University. Scott is co-author of the book, Mobile Learning: A Handbook for Developers, Educators, and Learners.
Back