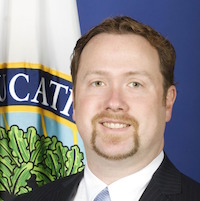 Michael Hawes
Statistical Privacy Advisor, U.S. Department of Education
Talk to me about:

Student Privacy

Data Governance

Federal Government

Michael Hawes is the Statistical Privacy Advisor for the U.S. Department of Education.

He advises the Department of Education's Chief Privacy Officer and senior leadership on issues relating to data release, data management, and disclosure avoidance, and oversees the Department's Privacy Technical Assistance Center (PTAC), which provides technical assistance on privacy and data security issues to state and local education agencies and to institutions of higher education.

Michael also chairs the Department of Education's Disclosure Review Board, the Department-wide board responsible for reviewing the disclosure avoidance methodologies used to protect privacy in the Department's public data releases.

Prior to joining the Department of Education, Michael served as a statistician and policy analyst for the U.S. Census Bureau, focusing on data stewardship and data management. Michael is a statistician, a Project Management Institute-certified Project Management Professional (PMP), and an International Association of Privacy Professionals Certified Information Privacy Professional/Government (CIPP/G).
Back