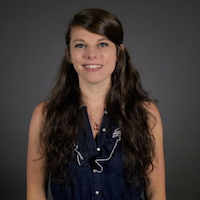 Liza Stark
Game Designer, Institute of Play
Talk to me about:

Games vs. Game-like vs. Game-based vs. Gamified: Not really sure what the difference is between these four approaches? Or how to evaluate which one is best for your learning goal(s)? Come to talk me about methodologies for determining how to integrate meaningful spaces of play into your classroom.

Exploding the Game: What are strategies for making a game really meaningful in your classroom? By building in learning experiences around a game before, during, and after play, you increase context and relevance for students. Come talk to me about designing structures to support game-based learning in your classroom.

Creative Circuits and E-Textiles: Interested in learning more about the intersection of basic electronics, art, and computational thinking? Want to brainstorm ways of integrating them into your curriculum? Come talk to me about the wonders of conductive fabric and LEDs. No background knowledge necessary!

Liza Stark is a designer, artist, and educator based in New York. During the day, she designs games with teachers and facilitates professional development workshops around game-like learning at Institute of Play. At night, she combines electronics with paper and textiles to produce computationally infused or inspired objects, usually with an unapologetically DIY aesthetic.

Stark has extensive experience collaborating with K-12 educators and students to integrate the design process into their practice. She was a founding member of gagdITERATION, a series of student-centered hands-on workshops focused on creative engagement with electronics; facilitator at EDesign Labs, a teacher-designer residency incubator; and recently finished hosting an upcoming series on DIY electronics project aimed at moms and kids. She has blinked at Maker Faire and the Open Hardware Summit and teaches in the MFA Design and Technology program at Parsons.
Back