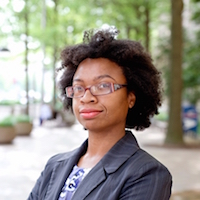 Lakita Edwards
Arts Education Specialist, National Endowment for the Arts
Talk to me about:

National Trends in Arts Education

Arts Education Funding

Lakita Edwards serves as a program specialist with the National Endowment for the Arts (NEA), an independent federal agency supporting artists and arts organizations and bringing the arts to all Americans. As a program specialist in the Arts Education division, she manages the grants portfolio for both visual arts and media arts projects serving PreK-12. Prior to her work with the NEA, Lakita was an education specialist for the National Park Service. Lakita received her bachelor's degree in art history and psychology from Bard College at Simon's Rock and her master's degree in arts education from Harvard University. Selected in the inaugural cohort of the Gates Millennium Scholars Program while a senior in her undergraduate year, Lakita brings to her work a personal testimony to grantmaking's role in equity and access in education.
Back