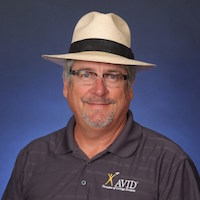 Bill Madigan
Educational Consultant, AVID
Talk to me about:

Social emotional education

Cultural hot topics

Neuroscience of learning and leading

Bill Madigan has a Masters degree in Humanities (M.A.L.A.) from San Diego State University and has been a high school teacher for 29 years. He also spent a year as an assistant principal at an inner city school in San Diego Ca. He has been an AVID consultant for over 15 years and is knowledgable about how neuroscience and psychology can inform teaching and learning. He has also taught college courses on educational theory. As a high school teacher, he has taught English, ESL and AVID. He also has taught all grade levels from ninth through twelfth grade as well as varied student populations from the emotionally disturbed and at-risk students to Advanced Placement and honors.
Back