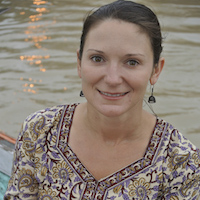 Jennifer Bevill
Technology Instructor, LSU Laboratory School
Talk to me about:

Global Connections and Collaborations

21st Century Learning Design

Teaching Tech Skills through PBL

Jennifer Bevill is an Informational Technology instructor at the Louisiana State University Laboratory School. The LSU Lab School is part of the College of Human Sciences and Education of Louisiana State University; it is a K-12 school that exists to provide training opportunities for pre- and in-service teachers and to serve as a demonstration and educational research center.

Jennifer has a degree in Elementary Education, a Master's degree in Educational Technology, and 14 years of teaching experience at the middle and high school level. She currently teaches ICT courses in grades 10-12. She also works with teachers across all disciplines and levels to integrate technology into the curriculum and create interdisciplinary projects. Jennifer's passion lies in creating a globally focused generation, culturally mindful, and accepting of differences between individuals. She views herself as a director of the learning environment in which students use technology to collaborate and communicate with the global community to solve problems.
Back