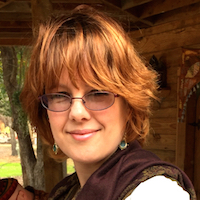 Jennifer Bullard
Director of Program Management, Querium Corp
Talk to me about:

Application development, especially focused on customer engagement. Including UI/UX feedback, artistic appeal and building customer profiles. I have worked on some AAA titles with a wide variety of audiences, so the ability to understand a customer's viewpoint over mine is a learned skill. Can't figure out why people are having trouble with your app, or digital product? I'll check usability for you and give some pointers.

Clearing obstacles for development to build product faster, get it in the hands of customers and have good feedback loops. Also developing appropriate goals, and narrowing focus to keep developers on track. I have been bridging creative personality types and business personality types for a decade. Having troubles? I can help.

Assessment of the dreaded 'gamification' that seems to be running rampant these days. Badges don't solve everything! Also, chocolate-covered broccoli seems to be a horrid outcome of trying to slap games inexpertly over education products. If you have never built a commercial video game and are trying to 'gamify' your product come see me.

Jennifer has 15+ years of game development experience, shipping over 20 titles and working with such brands as The Sims 2, Call of Duty, Heroes of Might & Magic and others. Currently Jennifer is working at an ed-tech start-up overseeing the development of education tutorial AI. She also advises for several Austin-area game development programs at UT, ACC, DeVry and is on the STEM Council for Skillpoint Alliance. Jennifer operates an annual conference called Captivate Conference focusing on the convergence of digital media from games, film, music & mobile industries.
Back