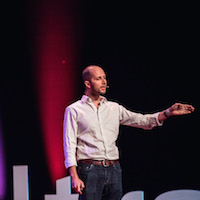 Matt Wallaert
Behavioral Scientist, Microsoft
Talk to me about:

Startups: I've exited two, both in the behavior change space, and invested and advised dozens more.

The Academic Transition: As a scientist with a teaching degree that went in to the world of business, if your career is at an inflection, I can help you navigate that.

Behavior Change: As a scientist, I specialize in changing real world, offline behaviors. If you know what you want people to do, I can help you design a process to get them there.

Matt Wallaert is a behavioral scientist working at the intersection of technology and human behavior. After several years in academia and two successful startup exits, he joined Microsoft, where he works across a variety of products and projects to design technology that helps people live happier, healthier lives. Wallaert maintains an active research lab and is a frequent speaker on the science of behavior change. He is most well-known at Microsoft for creating the Bing in the Classroom program, which has helped over 7 million kids to make digital literacy a daily part of their education. Externally, he sits on the board a variety of startups and non-profits, and cultivates pro-social side projects like GetRaised.com, which has helped underpaid women ask for and earn millions of dollars in salary increases.
Back
Matt Wallaert
Austin Convention Center Room 11AB
Mar 10
10:30am – 11:30am
Register online